Polishing and grinding machines
These machines are meant for polishing, grinding and brushing from a free hand with the help of elastic grinding wheels i.e. felt polishing wheels, rag wheels, lamella and brushes. Their design enables production in 3 versions - according to the performance of the motor. The advantage in these machines is that the height of their work spindle is adjustable from 650 mm to 900 mm from the ground.
Each work spindle has its own motor and the possibility of adjusting its rotation. The step ends of the work spindles enable the mounting of either suction covers or tightening equipment for grinding with grinding belts. At the end of the shafts it is possible to screw on grinding arbors on to small disks for the purpose of grinding or polishing of cavities etc.
These machines are manufactured in the following 3 types: LBS 3, LBS 4, LBS 5.5.
As special accessories the following can be provided according to the requirements of the customer:
for work with wheels - suction cover right or left, of the type OZP or OZL
for work with grinding belts - tightening equipment left or right, of the type NZP or NZL.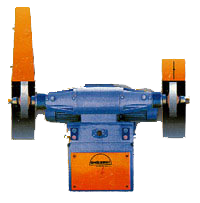 General dimensions l x b x h /mm/
Height of the axis of fully adjustable work spindle
Diameter of the shaft /mm/
Max dimensions of the wheels /mm/
Revolutions of the right working spindle
Revolutions of the left working spindle
Power input of the motor /kW/